Conquest V.H.P. oferă noi modele sportive
Conquest V.H.P. reprezintă o nouă realizare în domeniul cuarțului, combinând o mare precizie, o tehnică înaltă și un aspect sportiv, marcat de eleganța unică a mărcii. În cadrul adevăratei esențe a lui Conquest - o linie sportivă definitivă - marca propune acum cronografe care reunesc toate calitățile mecanismului Conquest V.H.P.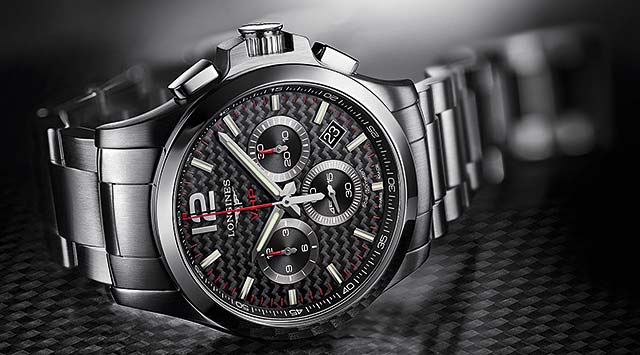 Istoria lui Longines cu cuarțul a fost una plină de inovații și realizări tehnice. În 1954 primul ceas de cuarț a stabilit un record de precizie la Observatorul din Neuchâtel. El a fost inclus în legendarul Chronocinégines, un instrument care a devenit un pionier în istoria cronometrării, deoarece a oferit judecătorilor o bandă de film compusă dintr-o serie de imprimări, permițându-le să urmărească mișcarea atleților în timp ce ei treceau linia de sosire.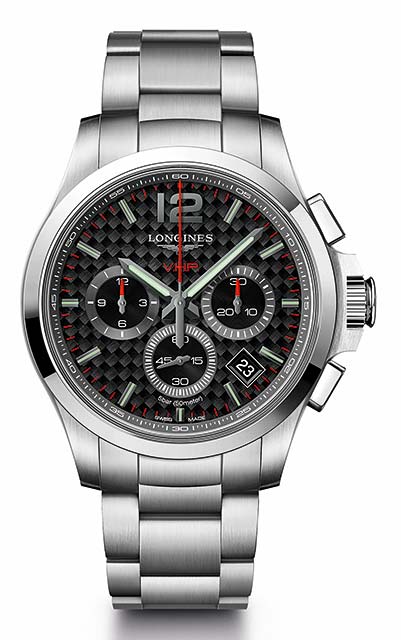 În 1969 măiestria tehnologică a condus Longines să-l dezvăluie pe Ultra-Quartz , primul mecanism de cuarț conceput pentru ceasurile de mână. Un pas mare a fost făcut în 1984 cu calibrul cu cuarț montat în primul Conquest V.H.P., ce a stabilit un record de precizie pentru acea vreme.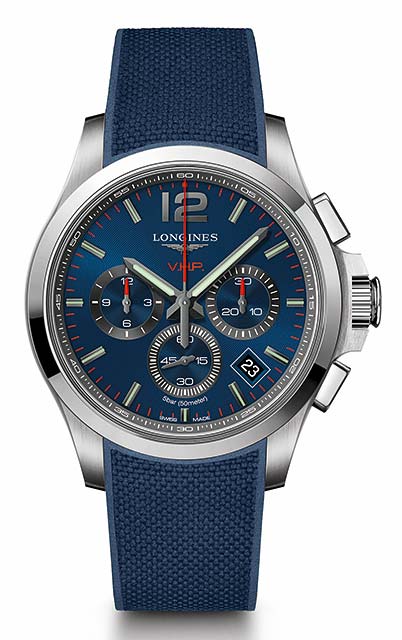 Ca o extindere a acestor etape istorice, brandul cu nisiparnița înaripată prezintă noul său Conquest V.H.P., acum disponibil și cu un calibru de cronograf, în diferite variante cromatice. Mecanismul, dezvoltat exclusiv pentru Longines, se evidențiază datorită gradului înalt de precizie pentru un ceas cu afișaj analogic (+/- 5 s / an) și capacitatea sa de a-și reseta arătătoarele după un șoc mecanic sau o expunere la un câmp magnetic, utilizând sistemul GPD (Detecția poziției angrenajului). Aceste caracteristici atractive sunt responsabile pentru statutul său de mecanism excepțional, la care trebuie adăugate o durată foarte lungă de funcționare a bateriei și un calendar perpetuu.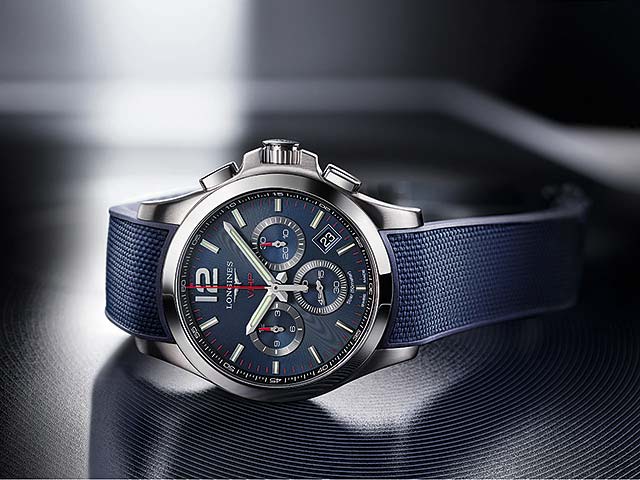 Aceste modele din oțel sau negru PVD sunt disponibile în două dimensiuni (42 și 44 mm în diametru) și afișează orele, minutele și secundele, prezentând un contor de 30 de minute la ora 3, un contor de 12 ore la ora 9 și un contor de 60 de secunde la ora 6. La fiecare model manipulările sunt simplificate datorită coroanei inteligente, în timp ce două indicatoare distinctive semnalează preventiv sfârșitul duratei de viață a bateriei.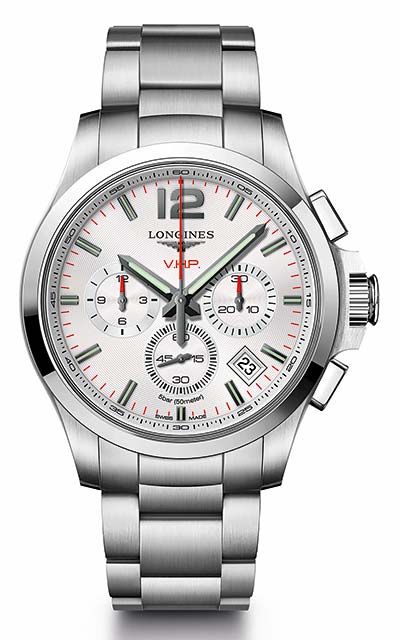 Cronografele Conquest V.H.P. se prezintă cu cadrane de culoare albastră, din fibră de carbon, argintii sau negre. O brățară din oțel sau negru PVD, sau o curea de ceas din cauciuc albastru sau negru completează aceste ceasuri excepționale.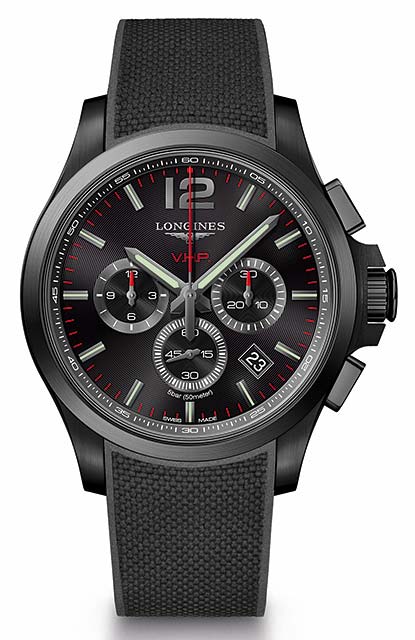 Technical Sheet
References numbers Steel models
L3.717.4.56/66/76/96.6/9 O42.00mm
L3.727.4.56/66/76/96.6/9 O44.00mm
Black PVD models
L3.717.2.56/66/76/96.6/9 O42.00mm
L3.727.2.56/66/76/96.6/9 O44.00mm
Calibre Quartz movement
L289.2 (ETA E57.211)
Functions Hours, minutes, seconds and date aperture at 4 o'clock (perpetual calendar)
Chronograph
Central second hand
30-minutes counter at 3 o'clock
12-hour counter at 9 o'clock
Cases Round, stainless steel or black PVD, O42.00mm or O44.00mm
Sapphire crystal with multi-layered anti-reflective coating
Dials Black, silvered, blue or carbon, with 2 applied Arabic numerals and 9 applied bar indexes with Super-Luminova
V.H.P. inscription in red
Small seconds at 6 o'clock
Date aperture at 4 o'clock
30-minutes counter at 3 o'clock
12-hours counter at 9 o'clock
Hands Black "new noir"
Water resistance Up to 5 bar (50 meters)
Bracelet/Strap Stainless steel or black PVD with triple safety folding clasp and push-piece opening mechanism
Black or blue rubber with triple safety folding clasp and push-piece opening mechanism
Prin magazinele "GALT orologerie elveţiană", Impulse Romania este reprezentantul unor prestigioase branduri orologere de marcă și de lux: A. Lange & Söhne, Girard-Perregaux, Zenith, Ulysse Nardin, Roger Dubuis, Harry Winston, Hysek, IWC, Omega, Jaeger LeCoultre, Longines, TAG Heuer, Rado, Raymond Weil, Revue Thommen, bijuteriile Pasquale Bruni, a accesoriilor pentru ceasuri Buben & Zorweg şi a curelelor Morellato.
Calea Dorobantilor 153 - Tel. 021.231.45.66
George Enescu nr. 5 - Tel. 021.318.91.70
JW Marriott Grand Avenue - Tel. 021.403.35.29
Vă invităm să apăsați aici pentru a ne cere informații suplimentare despre ceasurile elvetiene Longines, inclusiv informații legate de disponibilitate și de prețuri. Vă invităm de asemeni să ne vizitați la GALT Orologerie elvețiană pentru a admira ceasurile realizate de firma elvețiană Longines. Asigurăm pentru dvs. și service-ul, autorizat de producător, al tuturor ceasurilor realizate de această firmă.